Pixie Gold is nothing that you expect it to be! You will not see your regular reels here in this slot, but will be surprised by a completely new layout! This slot on Coinfalls Casino is here to give you an out of the world experience in slots, and you will not be disappointed. It has a different theme and a unique design, which makes it a stylish slot but with an easy gameplay.

Pixie Gold has a layout that will blow your mind

!

In the first look, Pixie Gold might look like a 8 reel slot with four reels in the middle being highlighted. But in reality, there are only five reels in all. This confusing pattern might be tricky to look at, but once the reels start spinning everything becomes clear! There is nothing complicated about this slot, it only has a unique design to please your eyes. You just need to get used to the placement of reels. Daar is 1296 maniere om te wen, which is an odd number when we talk about paylines.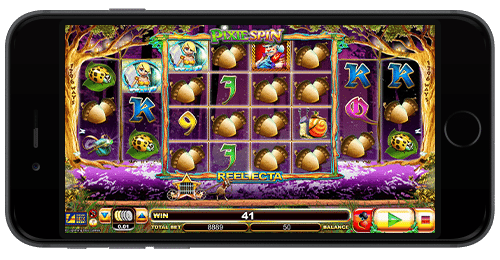 Die belangrikste rolle is in die middel, waarvan vier in getal is, en het ook vier simbole in hulle. Hierdie vier rolle word beskou as een katrol, alhoewel hulle verskillende simbole op elke. Die ander rolle aan die kant het ruimte van 3 simbole. Die wending kom in hier! so, dit is net 'n 5 rolle slot - een groot katrol in die middel, en twee aan elke kant. 'N Drie simbool oorwinning is dus wanneer jy twee simbole op die 1ste en die 3de katrol, en dieselfde simbool in enige van die middel rolle. Die waarskynlikheid is ongetwyfeld 'n hoë, when a matching symbol only has to appear once in the four-middle reels.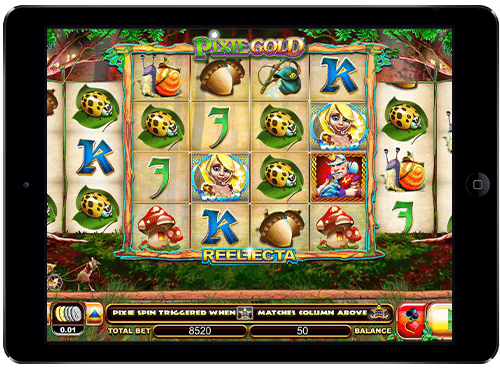 Pixie Gold is the wild symbol here, and this blonde fairy brings in only good news. She can substitute all symbols except the King Star symbol. This wild symbol can appear only in the 3rd reel, that too only in the base game. But the main feature you will love is the free spins feature. You might only get ONE free spin at a time, but that is not something to be disappointed about because it can be re-triggered! 'N klein muis sal gesien word aan die onderkant van die rolle altyd met 'n wa, en dit is beslis 'n oulike gesig. Die muis lukraak stop met sy wa onder 'n katrol, en as dit katrol het die Koning Star simbool, dan kry jy 'n gratis spin. Terwyl al hierdie oulike dinge op, die wilde simbool kan ook verskyning op die tweede of die derde reel te maak In 'n ekstra geluk te bring vir jou!

Afsluiting

Pixie Gold is 'n slot met 'n maklike spel en 'n interessante uitleg! Die uitleg is die rede waarom jy uit kan loop met baie kontant! So speel nou en ervaar die beste!