Pixie Gold is nothing that you expect it to be! You will not see your regular reels here in this slot, but will be surprised by a completely new layout! This slot on Coinfalls Casino is here to give you an out of the world experience in slots, and you will not be disappointed. It has a different theme and a unique design, which makes it a stylish slot but with an easy gameplay.

Pixie Gold has a layout that will blow your mind

!

In the first look, Pixie Gold might look like a 8 reel slot with four reels in the middle being highlighted. But in reality, there are only five reels in all. This confusing pattern might be tricky to look at, but once the reels start spinning everything becomes clear! There is nothing complicated about this slot, it only has a unique design to please your eyes. You just need to get used to the placement of reels. Der binne 1296 manieren om te winnen, which is an odd number when we talk about paylines.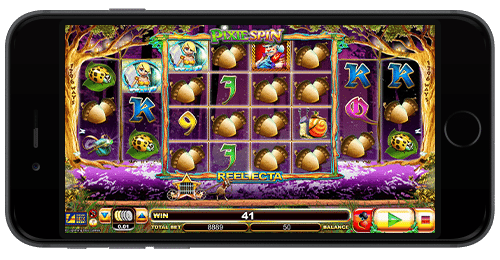 De wichtichste reëls binne yn 'e midden, dy't binne fjouwer yn tal, en ek hawwe fjouwer symboalen yn har. Dy fjouwer reëls wurde beskôge as ONE reel, al se hawwe ferskillende symboalen op eltse. De oare reëls oan de kant hawwe romte fan 3 symboalen. De twist komt yn hjir! Sa, it is allinnich mar in 5 reëls slot - ien grutte reel yn it midden, en twa oan eltse kant. In trije symboal win is dêrom as jo krije twa symboalen op de 1e en de 3e reel, en itselde symboal yn ien fan 'e middelste reëls. De kâns is sûnder mis heech, when a matching symbol only has to appear once in the four-middle reels.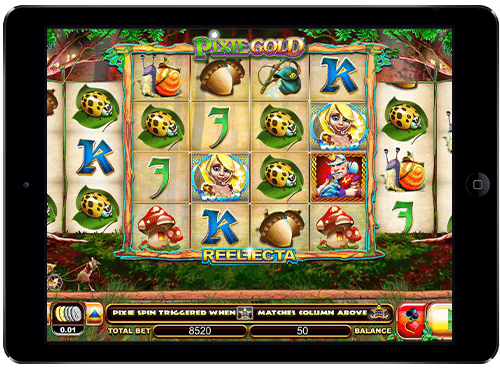 Pixie Gold is the wild symbol here, and this blonde fairy brings in only good news. She can substitute all symbols except the King Star symbol. This wild symbol can appear only in the 3rd reel, that too only in the base game. But the main feature you will love is the free spins feature. You might only get ONE free spin at a time, but that is not something to be disappointed about because it can be re-triggered! In lytse mûs wurdt sjoen op 'e boaiem fan' e reëls altyd útfieren in karre, dat is seker in cute eagen. De mûs willekeurich stoppet mei syn karre ûnder in reel, en as dat reel hat de kening Star symboal, dan krije jo in frije spin. Wylst al dy cute dingen binne op, de wylde symboal kin ek om uterlik op de twadde of de tredde reel te bringen yn ekstra gelok foar jo!

Konklúzje

Pixie Goud is in slot mei in maklik Gameplay en in ynteressante yndieling! De yndieling is de reden wêrom jo miskien rinne út mei in soad jild! Sa spylje no en belibje de bêste!