Big Foot Scratch
Search for the Big Foot with the Big Foot Scratch Card Online Game

Inspired by NextGen's BigFoot slot game, the game maker has rolled out a scratch card version of the same game keeping the same concept in mind. Being a scratch card game, there is not a lot of features to look forward to like the slot game, however Big Foot Scratch does provide players with a calm and soothing atmosphere that lets them relax and let luck do it's job. The game has some satisfactory graphics but then again, a scratch card game can never be volatile and that is the reason why this game can be considered as a mellow one.

Gameplay and specifications
The goal of the game is simple and follows the standard scratch card rules. All you need to do is get a matching set of three scratch cards to get wins according to the paytable. However, the game is a 3×3 scratch card game and hence it will be somewhat challenging to get 3 out of the 9 cards to be matching symbols. Big Foot Scratch has flexible bet amounts and you can choose any amount ranging from as little as 20p to £ 200.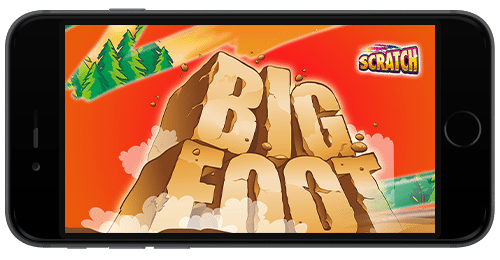 To get started with the game all you need to do is fix a stake amount. The game features a play and an autoplay option. If you like to take things one at a time, you can go for the play option. If you would like to play the game 5- 25 times in a stretch, then the autoplay option will help you out.

Game features
Big foot scratch does not really have a lot of Casino Mobile Online game. While the slot game is remembered for its fun features like wilds and scatters, the scratch game offers its own rewards.
The scratch game consists of symbols like the Big Foot, a foot print, a valley, an owl and a signpost to name a few. The paytable gives the weight of each of these symbols, and aiming for the highest weighted symbol which is the Big Foot himself gives you a return of 1000x your stake amount.
Other symbols like the footprint and the valley also offer decent returns, but symbols like the owl and the sign post only give you trivial returns.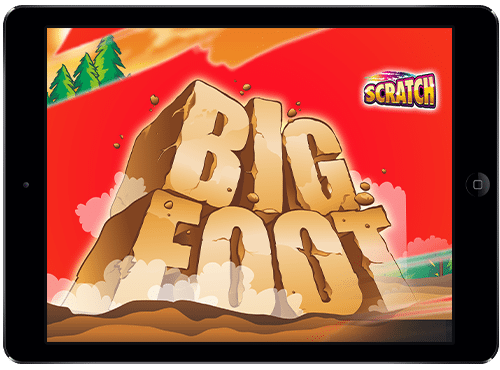 Summary
Big Foot Scratch is a game that has very little in common to the slot game in terms of rewards. Though the game does have a 1000x return which has a potential to give you £ 200,000, the RTP is just 90.86%. However if you play at low stakes then you have low risks and can get some really good returns in this relaxing scratch game.