Blackjack Diamond VIP

One other Mobile casino game by Evolution Gaming that is specifically designed for high rollers is Diamond VIP. This is an online blackjack with a rather hefty betting limit (£1,000 minimum). However, with a great layout and gameplay players can be sure of a decent game. Read the review below to learn more about this blackjack.

High Betting Limits For Diamond VIP
The first thing you need to know about Diamond VIP is that it has a pretty high betting limit. The minimum betting limit is £1,000 while the maximum betting limit is £5,000 for each round.
Players would have to register with an online provider. They will open an account and make their deposit before playing. This Mobile casino Blackjack comes in real-money mode only. Payouts for winning sessions are made to your account but after a couple of sessions.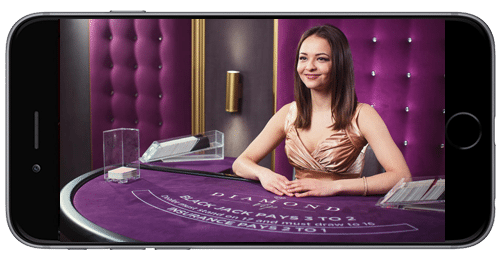 Standard Blackjack Gameplay Is In Effect
With Diamond VIP you play with eight standard decks of cards. The cards will be shuffled at random after each round. Side bets can be placed in this online blackjack game as well. The rules are basic and the layout is grand. High definition cameras are used during this live-action blackjack.
In this blackjack players can place a 21+3 side bet. They can also place a Pre-Decision or Perfect Paris side bet if they like. The game allows for Insurance bets as well. A couple of cards are dealt by the dealer to a player. These cards will face upwards and the dealer stands whenever he has a card(s) value of "17".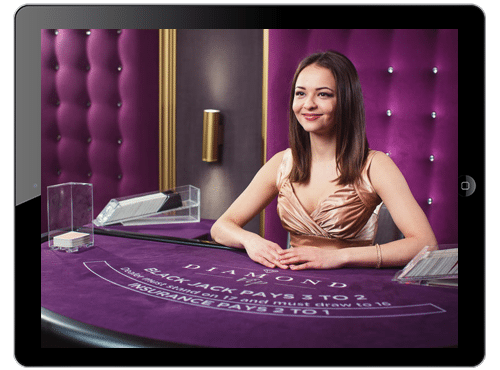 Diamond VIP Gaming Options
In Diamond VIP you can make certain decisions while you play. These decisions include "Stand", "Hit", "Double" or "Split". As long as a player does not "Bust", he will win if his card values are the closest to zero. Bets will be lost where the dealer wins. The payout ratio for wins by a player is 1 to 1. With a "blackjack" the payout ratio involved is 3 to 2.

To Sum Up
This is an expensive blackjack to participate in. It is therefore recommended for only experienced blackjack players. The gameplay is quite good and the layout is luxuriously designed. There are several camera angles in operation to enhance your overall gaming experience. The cameras involved are all in high definition as well. Try this blackjack today if you are a high roller.