Blackjack Party

In Blackjack Party, you have a real party scene on your hands with a playing screen comprising of several croupiers at the same time. While the standard blackjack rules apply in this Mobile casino game, it, however, promises to provide players with more entertainment and better gameplay features. Read on to get more information about this mobile blackjack by Evolution Gaming.

How To Join The Blackjack Party?
First, of all, the game can be played using a personal computer and even a laptop if you prefer. This Mobile casino gambling game can only be played on a real-money mode and not on practice mode.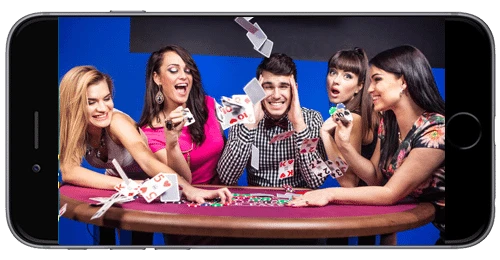 It costs a lot of money to bring the live-action feed to your homes, so the developers structured the game as such. However, players will be glad that they can be part of the party with just £5. Yes, with this minimum amount you can participate in a game of Online Blackjack, just perfect for low to medium stake players.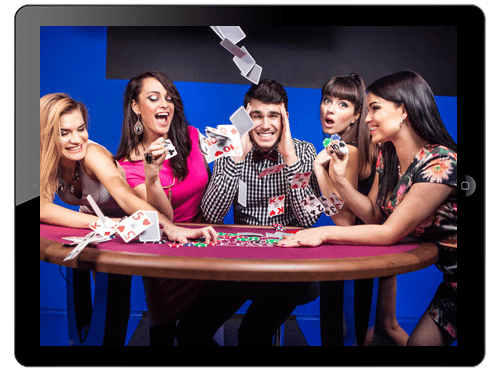 Once you register and log on to a game provider, you can start playing after making a deposit in your account. High rollers can stake a maximum bet of £1,000 per session. Payments can be made via credit or debit cards, Web wallet, direct bank transfer or prepaid card.
Highly Interactive Interface
Blackjack Party is equipped with an interface that is very colourful. The game has been structured to make players play under a highly friendly and totally relaxed environment. A soothing background music score plays as you engage in a session. Friendly croupiers would be on hand to help you navigate through the game's interface to make you play with ease and speed.
You playing experience is further enhanced by the multiple high definition camera angles on show. You can totally enjoy the game's optimal video and audio output if your internet connection is spot on.
Placing Bets
As with your typical blackjack game, Blackjack Party uses eight decks of standard playing cards. There are no jokers coming into play in this one and you win when your hand is "21". Alternatively, wins are recorded when your hand is greater than that of the dealer. The dealer will stand on "17" and the payout ratio for a standard blackjack is 3 to 2.
The total number of seats available in this blackjack table is seven. If all the seats are taken, players need not worry as they can utilise the game's "Bet Behind" option. 5 his option allows you to make a bet through the 'back door' even without having a seat at the table. With this option, you can place a bet anywhere between 50p and £100 per session.

To Sum up
With a user-friendly and highly interactive gameplay that allows you to utilise a Bet Behind feature. Blackjack Party is certainly worth a close look. Do not forget that several croupiers will be on hand to meet your need as you play.