Drive
Drive

It is time to re-fuel your car, buckle up the seat belts and go on an unforgettable journey with Drive. Coin Falls Casino brings to you a online slot that is all about cars and junk food – all in the darkness! It is a power packed game that will surely make your heart race. Experience the perfect amalgamation of speed, power and thrill as your hearts race along with the cars.

Are you ready to race with Drive?
Drive is a 5 reels online slot with 9 paylines, and lots of speeding cars! This slot has graphics that define the theme quite aptly, and is enough to keep you entertained for long. The graphics are beyond your expectations and has everything from cars to accessories to leather jackets and a pit stop diner. The music supporting the slot throughout is peppy and catchy, appropriate for the theme. A favourite of the bad boys who like to wear their leather jackets and bring out the fast and furious side of them, this is something you cannot afford to miss.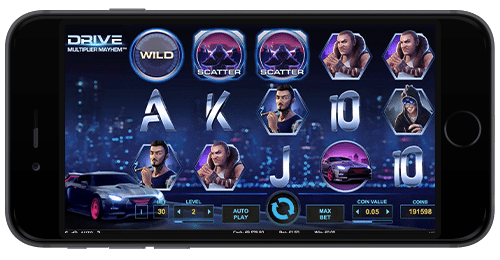 The players will have to begin with placing their bets. Players can set their bets by selecting the coin value from the wide range. The range for the coin value is huge to give players the flexibility they deserve. The range is such that it suits every player's interests. Whether you are a low stake player or the brave one who is ready to risk it all with high coin value, there is scope for everyone. Once you are all set, press the spin button and ready to race.

The amount you win depends upon the value of symbols. There are two types of symbols in this slot – one comes under the category of cars and accessories, the second one is about the fast food diner. One is where the symbols are related to cars and the road – there are road signs, trucker, pink and yellow cars, a giant wheel on fire, mirror dice. The other one is the pit stop diner's symbols – fast food like the hamburgers, sodas, and so on. The symbol you must keep an eye on is the flaming wheels, because only they can take you to the jackpot.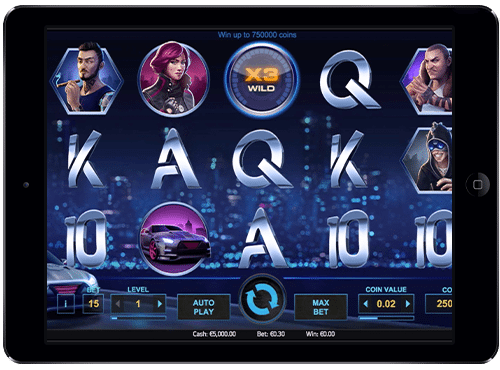 The wild symbol is a road sign, and can substitute all symbols of the game. The other important symbol is the police car scatter symbol. Do not be afraid of them, because they bring in great multipliers!
Conclusion
In all, Drive is an amazing slot that will give you great wins and entertainment at the same time!