Fisticuffs
GET READY TO BRAWL WITH FISTICUFFS

Fisticuffs is a game centered around the traditional mano-a-mano fight. Set in a 1900's boxing ring, the game is all about a fight between two very contrasting players. The game features the fight between a heavyweight boxer who believes in brawn rather than brain and dishes out straight punishment that sends the lightweight streaking across the reels. The lightweight boxer however is more of an intelligent type and attacks the heavyweight either from above or below rather than going for him in a head to head approach. The game has some good Best Slots Sites Online that not only keeps you entertained but makes you rich as well.

ANIMATIONS AND SOUND EFFECTS THAT PACK A PUNCH
The game is a boxing game and you hear every sound you can associate with boxing through a slot game. This boxing theme based online slot game also features some interesting animation sequences when you hit certain combinations on the reels. You have scenes where the heavyweight pulverizes the light weight and sends him streaking to the first and last reels for a straight wild. And for the diagonal wild, you see the lightweight dishing out fitting punishment attacking the heavyweight in every angle he can. With symbols like a stool and even the boxing title belt, Fisticuffs features smooth animations throughout.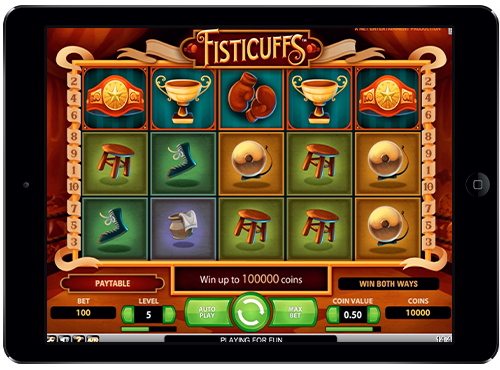 WILD PUNCHES AND HEAVY WINS!

Though Fisticuffs is not progressive in nature it is more than made up for with its other features. The game is basically a 5 reel, 3 rows and 10 paylines game. But, one of the main features of this game is that it has a both ways win feature. This counts your payline from left to right and right to left looking for a win. The game also has 2 wild symbols, the lightweight and the heavyweight. Sadly these wild symbols only occur in reels 2,3 and 4. While the heavyweight takes the central reels, the light weight surrounds him in reel 2 and 4. The game also features a boxing wild feature which is triggered if both the wild symbols come on your screen together. The game does have free spins but it gets triggered only if you hit a boxing wild combo. Even then all you get is one free spin!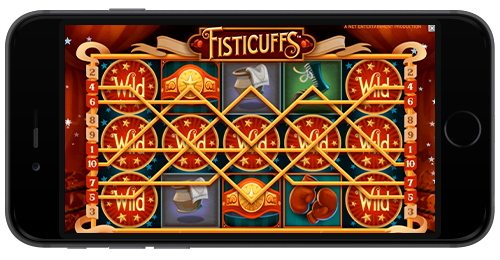 Summary
Though Fisticuffs does have a theoretic payout of 96.7%, the game is certainly lacking the scatter feature. But with win both ways and an extra boxing wild feature the game promises a beautiful 100,000 coin jackpot to its players. This makes the judgment mixed, but we think it could still have used some more free spins!