Mayan Legends Real Money Coin Spins in Free Demo Mode | CoinFalls Casino
Mayan Legends Real Money Coin Spins in Free Demo Mode from CoinFalls

Get ready to be transported to the ancient Mayan times with this
Free Spins Slots
Keep What You Win, Mayan Legend. This has amazing graphics and offers 3 ways to win. The Free Spins Slots Keep What You Win is all about collecting masks and winning huge cash. In this, you have to roll the dice and nothing but pure luck. The IWG gaming developers are the ones behind the designing and building of this amazing game. As per their reputation, they have done an amazing job in creating this Free
Spins Slots
Keep What You Win.
There is nothing like a good game that transports you to the next world. So, get ready and start playing this instant win game and bag yourself some big prizes.

Explore A New World With Mayan Legends Real Money Coin Spins in Free Demo Mode from CoinFalls
A selection of beautiful colours have been used in creating all the masks here. The masks have been designed to suit the theme of the slot perfectly. The masks can be differentiated by their colours: blue, green, purple and yellow. It is set against a forest backdrop with a pinkish peach sky and the trees in the background. The slot in itself is a wall. On one side of the screen you can see two dices, one black and one white and on the other side of the screen is the table that keeps filling with the colour of the masks as they keep getting destroyed. The RTP is also very high, reaching to a level of 85.16%.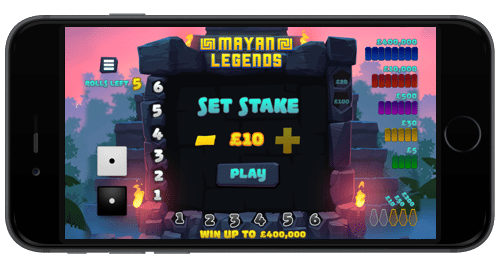 Mayan Legends Coin Spins in Free Demo Mode
Gameplay
This Free Spins Coin Slots Keep What You Win has a very simple gameplay. All you need to do is roll the dice and the masks on the table will keep getting destroyed. At the starting, you will be asked to set the stake of your bet by clicking on the + and – options. Then you will click the Play option and the game will start. The two dices will show the coordinates from 1-6 for each end. The Masks that are in those coordinates get destroyed and any other adjacent mask that is similar to the destroyed one is also destroyed. The rows of colours will keep filling with the increasing number of masks. When you fill one row completely, you will be rewarded for your win.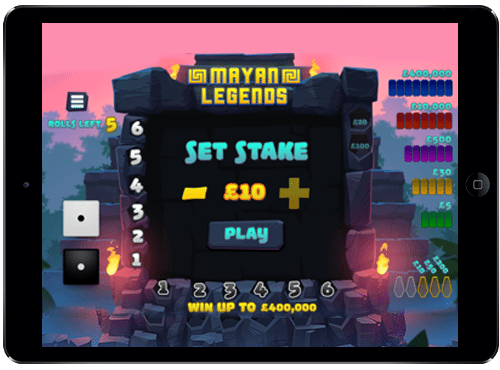 Final Words on Mayan Legends Real Money Coin Spins in Free Demo Mode
This Free Spins Slots Keep What You Win have everything that is needed for the people to like a game like this. Huge winning potential, crystal clear slot graphics, amazing sound effects and an interesting gameplay is what makes Mayan legends one of the most playable amongst the gamblers.
Simply Register and Create a Verified account to play in Free Spins Demo Mode