Pixie Gold

Pixie Gold is nothing that you expect it to be! You will not see your regular reels here in this slot, but will be surprised by a completely new layout! This slot on CoinFalls Casino is here to give you an out of the world experience in slots, and you will not be disappointed. It has a different theme and a unique design, which makes it a stylish slot but with an easy gameplay.

Pixie Gold has a layout that will blow your mind!
In the first look, Pixie Gold might look like a 8 reel slot with four reels in the middle being highlighted. But in reality, there are only five reels in all. This confusing pattern might be tricky to look at, but once the reels start spinning everything becomes clear! There is nothing complicated about this slot, it only has a unique design to please your eyes. You just need to get used to the placement of reels. There are 1296 ways to win, which is an odd number when we talk about paylines.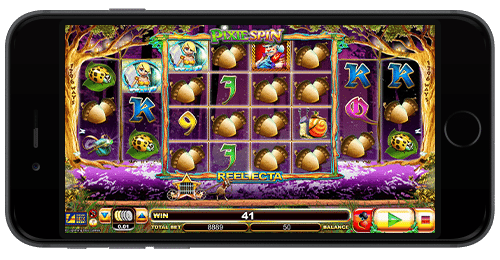 The main reels are in the middle, which are four in number, and also have four symbols in them. These four reels are regarded as ONE reel, though they have different symbols on each. The other reels on the side have space of 3 symbols. The twist comes in here! So, it is only a 5 reels slot – one major reel in the middle, and two on each side. A three symbol win is therefore when you get two symbols on the 1st and the 3rd reel, and the same symbol in any of the middle reels. The probability is undoubtedly high, when a matching symbol only has to appear once in the four-middle reels.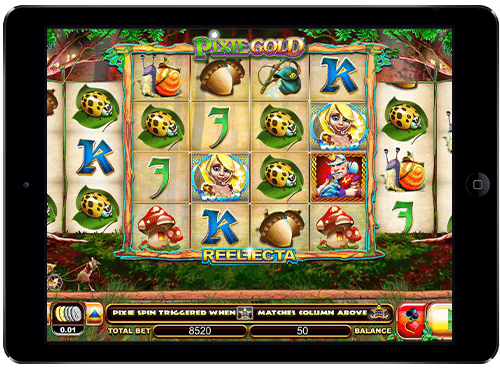 Pixie Gold is the wild symbol here, and this blonde fairy brings in only good news. She can substitute all symbols except the King Star symbol. This wild symbol can appear only in the 3rd reel, that too only in the base game. But the main feature you will love is the free spins feature. You might only get ONE free spin at a time, but that is not something to be disappointed about because it can be re-triggered! A tiny mouse will be seen at the bottom of the reels always carrying a cart, which is definitely a cute sight. The mouse randomly stops with his cart under a reel, and if that reel has the King Star symbol, then you get a free coins spin. While all these cute things are on, the wild symbol can also make appearance on the second or the third reel to bring in extra luck for you!

Conclusion
Pixie Gold is a slot with an easy gameplay and an interesting layout! The layout is the reason why you might walk out with lots of cash! So play now and experience the best!