Steam Tower
RESCUE THE DAMSEL IN DISTRESS IN THE STEAM TOWER

Steam Tower is a Victorian era theme based game set about in the 19th century or so. If you have always liked the knight in shining armor rescuing the damsel in distress, you certainly get to be one in this game! Though you don't really have armor or a sword you do get to rescue a damsel from a tower guarded by a ferocious dragon! Yes the game is progressive and gets quite rewarding once you get into its depths and wrap your head around it. The game isn't set in a castle though. It is set in an industrial based background and the damsel is located at the top floor of the steam tower. You're supposed objective is progressing through the floors and finally rescuing her, though in reality what you get is a sack of coins for your efforts!

Steamy animations and sound effects
The Audio Visual effects of Steam tower work well in tandem to make sure that you get the feel of the game. With symbols ranging from a dragon eye to the gorgeous princess, the animations are quite smooth and captivating and will make sure that you don't take your eyes off the screen. Being a online slot game, you will be occasionally graced with some moments when you will be taken back in time to the listening to fairy tales phase of your life. On the whole Steam Tower has done a pretty decent job in making sure that the player does not ditch the game due to poor appearances!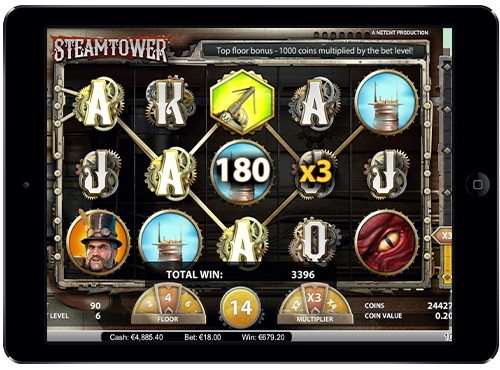 Highlights and the Tower Bonus!
What really matters to a serious slot player is how rewarding the slot game is. This 5 reel, 3 rows and 15 payline slot game certainly packs a punch with its features! There is no game that essentially favors a player without a wild symbol and a scatter symbol. Thankfully Steam Tower has this and more! With a good payout percentage of around 96% the game even features a stacked wild symbol and a multiplier meter. While the stacked wild symbol is the central character, the multiplier meter works in tandem with the level progression as shown below:

Summary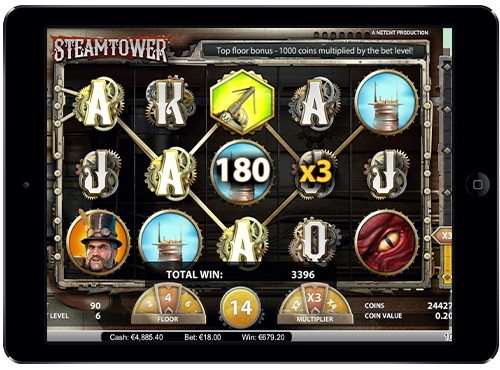 With a decent theme and good audio visual effects, the game certainly doesn't fail to excite the player. The multiplier feature is the game changer and can help you with winning about 7x your stake level. With around 42 free spins well distributed in the game, it certainly is worth a shot for our dear members.