Stickers

'Stickers' is one of those slot games that will make you go 'Aww' with its cuteness. Not only is the game very adorable, but is also highly rewarding. With every symbol that you see on the screen, you can relate it to your childhood. After all, we all had some favourites which we put on our books, walls and toys. Enjoy the throwback to childhood with Stickers and Coinfalls Casino.

It is a 5 reel and 20 paylines game with fruit shaped symbols all over. When these symbols are in a payline pattern, expect stacks of money coming your way. The symbols which you will love the most will be strawberry, orange, kiwi and blue fruit.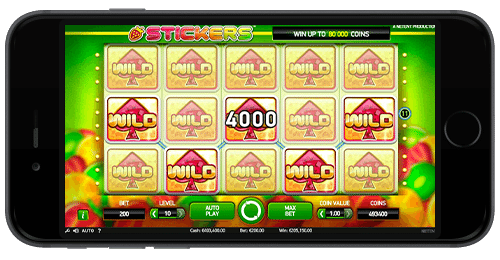 Bets: There is no option to select the paylines, but the level and coin values can be of your choice. Choose the level of the bet from 1 to 10 and coin value from 0.01 to 1.00 credits. This means that the maximum you can bet is 200 credits with level 10 and coin value of 1.00. The jackpot in this game is a whooping 80,000 credits which can be claimed when 5 strawberries are seen in a payline pattern.

Sticky Wild: The wild symbol is WILD written in pink. It can substitute any symbol in the game and has the power spins to bring you free spins and other bonuses. Whenever a sticky wild is spotted on the reel, it gives you a free spin instantly. And even after that, going by its name, this symbol remains stuck during the free spin. And if you get another sticky wild then, then this gets stuck too in another free spin you get. And the saga goes on till the time there are no new sticky wilds. But when that time comes, you are already loaded with cash!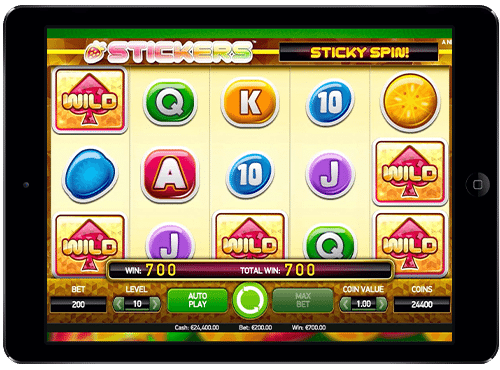 Autoplay: Place your bets and hit the autoplay option. Then sit back and relax while the slot spins for itself until a jackpot is hit or the number of spins end.
The beauty of this game is in its simplicity. Very colourful and lively, with simple features to enjoy from, Stickers is a must play for those who like to play slots of easy gameplay and enjoy vibrant graphics.