Subtopia
DIVE INTO THE DEPTHS WITH SUBTOPIA

If you don't mind getting wet then grab a pair of flippers and get ready to explore the depths with Subtopia. This deep-sea diving themed online slot game is a true feast for your eyes, ears and wallet! Netent has certainly gone a few steps ahead of itself in designing this game. Not only does it feature some amazing sights and sounds, the game also has a multiplier meter that is initially random. As you keep foraying into the depths of the sea you see that the multiplier meter rewards you with excellent increments of your winnings.

Right from barracuda to bass, the game features all kinds of fishes you are likely to encounter in an actual deep sea diving expedition. The pleasing blue background of the slots and the amazing features in the game like the multiplier meter, wilds and scatters gives you a grand payout percentage.
Multiply your winnings and take home the treasure!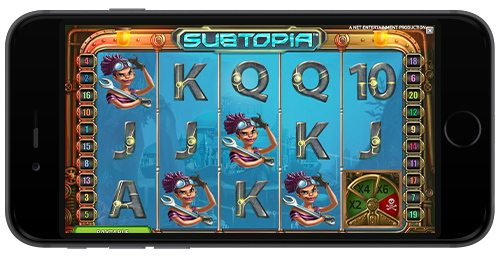 There always is a treasure chest waiting at the end of a deep-sea expedition. Subtopia follows suit by making sure that its player is rewarded. With wilds, scatters and multiplier meters, the player certainly is rewarded. Though Wilds and scatters are pretty much common to almost all slot games, Subtopia does have a multiplier meter which tosses things around.

Though the game might appear to be static, it isn't! If you need proof all you need to look at is the multiplier meter. The reason why it can be concluded that the game is progressive is because of the fact that the multiplying factor in this game keeps on increasing the more you play! Keeping in contest it can be said that the deeper you progress into the sea, the more is your multiplication factor and the more is your chances to take home a big win!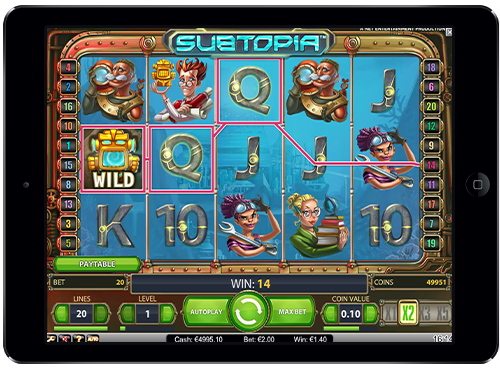 Summary
Though it may seem like Subtopia has very little to offer as a online slot game the truth is far from that. With excellent sound effects and competent animations, the sights you get to see in this game are a real treat for your eyes. But what's the best part is its slot payout percentage of 96.5% which makes the game a treat for your wallet as well!