Three Card Poker

As the name suggests Three Card Poker involves a win featuring a hand comprising of three cards. This Mobile casino poker game by Evolution Gaming comes with one deck of regular playing cards. There are also various betting options on offer and players can expect various payouts. Check out what this game has to offer in the review below.

Understanding Three Card Poker
Before players play a game of Three Card Poker they have to first place their bets. They place an Ante Bet and soon after they will have to place a Play Bet. Note that the betting size of both the Ante Bet and Play Bet will be similar.
A player can win both the Ante and Play Bet when they have a Queen in their hand or cards with greater values. With this, the player will be victorious over the dealer and will earn a payout. Side bets like Pair Plus and six Card Bonus Side Bets can be placed in this Mobile casino poker game.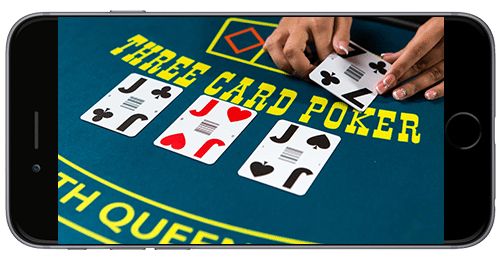 Simple Gameplay Available
Players of Three Card Poker have to first select their betting chip size. After which they place an Ante Bet, the Ante position is situated in the middle of the poker table. As mentioned earlier, players can place a Pair Plus or 6 Card Side Bet.
Players are then dealt three upward facing cards after an Ante Bet is made. Once the cards are dealt, players can place a Play Bet. Their cards will then be uncovered and the winner with the best hand will be announced soon after. Once again a dealer will win if he has a Queen or a greater card in his hand. Players win when their hand is stronger than that of the dealer.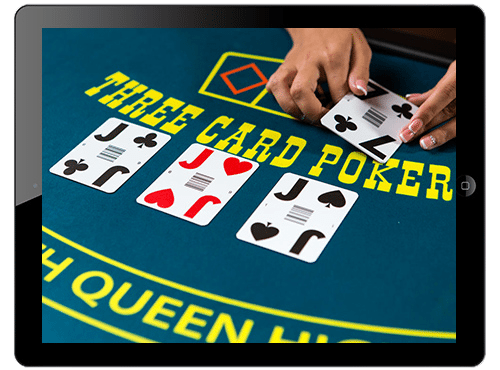 Three Card Poker Bets And Payouts
The initial bet placed by players once their betting chips have been selected is the Ante Bet. This bet has a payout of 1 to 1, this is also the payout for a Play Bet. A Pair Plus Side Bet comes with a payout as high as 100 to 1. "Three of a Kind or Better" comes with a 7 to 1 minimum payout and a 1,000 to 1 maximum payout.

To Sum Up
Three Card Poker is compatible with both Android and iOS tablets and mobile phones. This online poker game has high definition camera angles and a smooth online streaming. Players can hope to earn a 1,000 to 1 payout on a "Three of a Kind or Better". This is an online poker game for both newbies and experienced players. It is definitely worth a go today.