Tornado Farm Escape
GET SWEPT AWAY WITH TORNADO FARM ESCAPE!

Imagine a peaceful farm with the usual members like pigs, chicken, livestock and even a farm house with a Television and a radio. And then imagine the not so nice sight of a tornado ripping through this set up! This is what Tornado Farm Escape has in store for its players. Though we associate natural disasters with heavy losses in money, this time the natural disasters actually help you take some money home. Yep, this time you will actually be sitting in your seats rooting for a storm or better even a tornado to blow across your screen to send your riches skyrocketing!

SWOOPING ANIMATIONS AND GUSHING SOUNDS
Netent has certainly done an excellent job keeping animation and sound effects real as possible. Tornado Farm Escape features some rich effects in the animation and sound effects department making it one of the most attractive online slot games ever released. Though the game does feature typical sound and animation controls, you are sure not to use them. Sights of the tornado and storms swooping over your screen are sure to bring in some feelings of exhilaration rather than terror! Every time your screen turns grey with changes in the weather, you are going to make some serious money.

WILD TORNADOES AND STORMS
Tornado Farm Escape is a feature rich game with wilds and two other unique game features. The wild symbol substitutes for any other symbol and gives you winning combinations. The storm feature of the game is triggered when a cloud symbol comes on any of the outer slots of the 5 reels. The fun of the storm feature is that it is unpredictable. It randomly swoops around your screen giving you wilds in every slot it touches. But the major symbol to look out for is the alignment of the hot and cold symbols on reels 1 and 5. This triggers the much hyped Tornado feature which is a free spin and bonus boost wrapped together in a package. The more wilds you get for every free spin, the more coins you earn!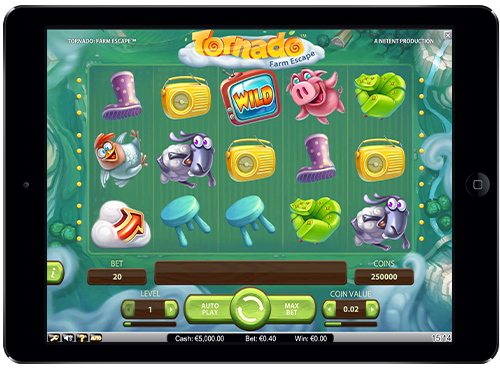 Summary
While Tornado Farm Escape is a game that features some unique winning ways and effects, it certainly can use a scatter symbol. The alignment of the hot and cold symbols can be painstakingly rare. However the game does reward its players well with its wild and storm features. So if you are a casual slot gamer looking for a bit of fun, then Tornado Farm Escape is certainly worth your time.