Twin Spin Slot
Twin Spin Slot

Forget about the latest bling, traditional slots are the best! And keeping that in mind, Twin Spin Slot was created. Though it follows the traditional slots, Twin Spin is double the fun! With basic symbols in it, there is nothing fancy about it. Yet this slot has graphics that are pleasing along with music that pumps up the mood for a game.

A 5 reel slot with 243 ways to win, the player has lots of opportunities to grab as much as he wants! So, if you have your luck with you, there is a lot for you in this basic slots game with enjoyable setup.
Bets: Use the green buttons to set your bet, for coin value and for the level of bet. Level 1 of bet multiplies the coin value by 50 to get a betting value of 25, and similarly at level 10 the coin value is multiplied by 500 to get the betting value of 250 which is the maximum.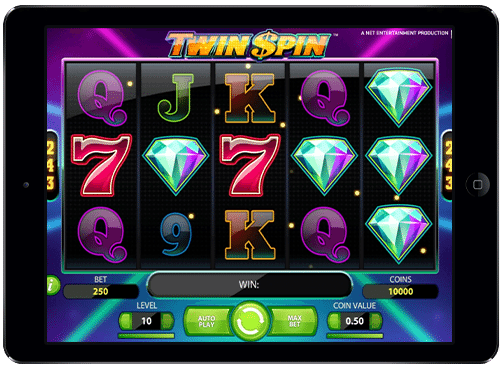 The jackpot is a whooping 1,000 times the betting amount! Making the maximum winning amount to 250,000 credits! Are you game already?
Wild: The wild symbol is the word WILD itself in red. It can substitute any symbol in the game, and since there is no scatter symbol, there is no exception.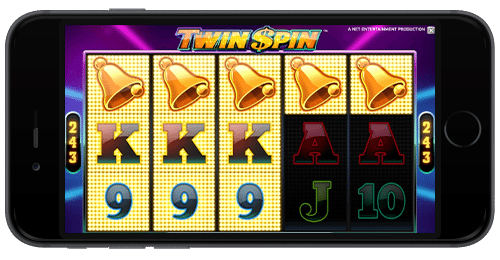 Twin Reels: The most unique feature of Twin Spin Slot is the Twin Reel. In this feature, two reels that are adjacent to each other will be identical and will also be linked throughout the spin. These twins can expand to become triple or to even quintuplet reels. This feature makes it easy to land on a winning combination of 3 symbols in a row!

Suggested for beginners, Twin Spin Slot is a very simple game with all the basics of slot games in it. The returns are huge, and so keep the player stays motivated to keep betting. For people who like their game to be simple, this game is a must as it does not have any complicated features that can be misunderstood. So sit back and enjoy the slots spinning, only on Coinfalls Casino.