Wishing You Fortune

Wishing you Fortune has an Asian theme, coming from the land of thousands of languages and an equal number of cultures. It perhaps is the most exciting and diverse continent on the planet. The history and the culture is so rich and diverse that it is impossible for someone to have enough of this continent. And this very same continent is the theme for the new WMS slot game, Wishing You Fortune.

To be precise it is based on a Asian Festival with lanterns, lights and a whole lot of other things.
The first thing that catches your eye in Wishing You Fortune are the graphics which include a eye watering backdrop of a night sky full of stars, vividly painted Chinese Lanterns and a great Golden Dragon . The bright and vivid colors find their way on to the reels where a soothing purple background is adorned with a myriad variety coloured symbols.
The music too is soothing and elegantly infuses with the theme and the graphics to create a magical aura that keeps you relaxed and at peace the whole time.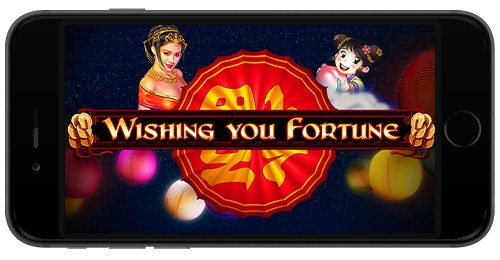 Performance
The game is really fast loading and the transitioning between the different screens is really smooth. Overall the game performs really solidly.
Gameplay
The game has an astounding 1,024 ways to win. You can either play for just 0.4 coins a spin or as high as 50£ spin. The amount of your bet depends on the bet level which starts at 1 and ends at 125.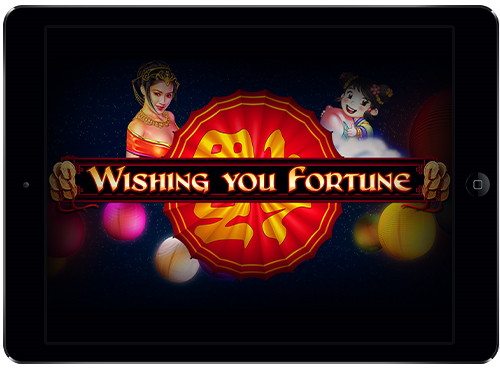 The prize icons are distinctively Asian with the Japanese Bonsai trees and the Poker icons being the symbols that award the top prizes. from 50 coins up to 150 coins, whilst The Koi Karo symbols award up to 312.5 coins and it's the same for frogs. The stork though is the star and provides you the highest win. A massive 625 coins. These prizes are for landing 5 symbols on the 5 by 4 window reels, but the game also has a lot of smaller prizes for landing 3 or 4 symbols. This will keep you happy until you get that big bonus that you have been waiting for.

Wishing You Fortune also has other Casino Mobile Online to keep you interested and excited about this game. Though the features are not really new and are actually the ones that we have already seen in a lot of other slot games from the same developer they still manage to keep you hooked and entertained.
Final Verdict
Wishing You Fortune is one of those slots that let you relax and have a laid back go at the slots. It soothes your and relieves any of the work pressure you might have been building up. So, do give this one a try. It won't leave you disappointed.