Pixie Gold is nothing that you expect it to be! You will not see your regular reels here in this slot, but will be surprised by a completely new layout! This slot on Coinfalls Casino is here to give you an out of the world experience in slots, and you will not be disappointed. It has a different theme and a unique design, which makes it a stylish slot but with an easy gameplay.

Pixie Gold has a layout that will blow your mind

!

In the first look, Pixie Gold might look like a 8 reel slot with four reels in the middle being highlighted. But in reality, there are only five reels in all. This confusing pattern might be tricky to look at, but once the reels start spinning everything becomes clear! There is nothing complicated about this slot, it only has a unique design to please your eyes. You just need to get used to the placement of reels. Hemm 1296 modi biex tirbaħ, which is an odd number when we talk about paylines.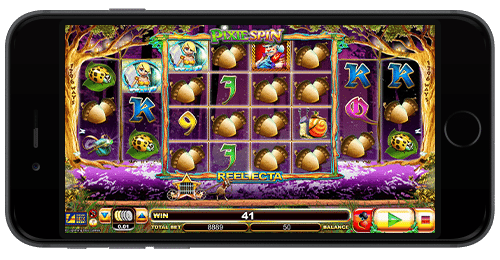 -Rukkelli ewlenin huma fin-nofs, li huma erbgħa fin-numru, u għandhom ukoll erba 'simboli fihom. Dawn l-erba irkiekel huma meqjusa bħala wieħed rukkell, għalkemm dawn ikollhom simboli differenti fuq kull. -Rukkelli oħra fuq in-naħa jkollu spazju ta ' 3 simboli. L-twist tiġi fi hawn! Allura, huwa biss 5 Rombli slot - wieħed rukkell kbar fin-nofs, u tnejn fuq kull naħa. A tliet Simbolu rebħa huwa għalhekk meta ikollok żewġ simboli fuq il-1 u t-3 rukkell, u l-istess simbolu fi kwalunkwe mill-rukkelli nofs. Il-probabilità hija bla dubju għolja, when a matching symbol only has to appear once in the four-middle reels.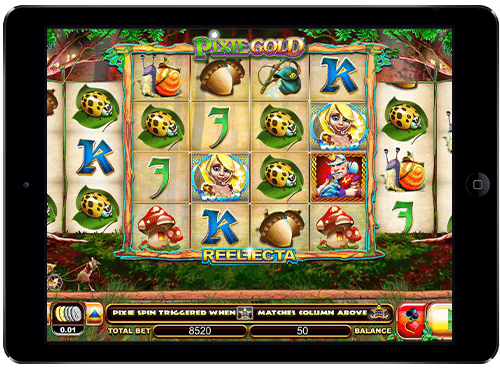 Pixie Gold is the wild symbol here, and this blonde fairy brings in only good news. She can substitute all symbols except the King Star symbol. This wild symbol can appear only in the 3rd reel, that too only in the base game. But the main feature you will love is the free spins feature. You might only get ONE free spin at a time, but that is not something to be disappointed about because it can be re-triggered! A ġurdien ċkejkna se titqies fil-qiegħ tal-rukkelli dejjem jġorru CART, li żgur vista ħelu. Il-ġurdien saltwarjament waqfiet bil cart tiegħu taħt rukkell, u jekk dik rukkell għandu s-simbolu Re Star, imbagħad ikollok spin ħielsa. Filwaqt li dawn l-affarijiet ħelu huma fuq, is-simbolu selvaġġi jista 'wkoll jagħmel apparenza fuq it-tieni jew it-tielet rukkell li jġibu Xorti żejda għalik!

konklużjoni

Pixie Gold huwa slot ma 'gameplay faċli u tqassim interessanti! It-tqassim hija r-raġuni għaliex inti tista walk out ma 'lottijiet ta' flus kontanti! Allura play issa u l-esperjenza l-aħjar!