[vc_row][vc_column][vc_column_text]
One of the greatest pleasures that come from writing reviews is introducing players into the world of live casinos as this is out and out our favourite way to do our gaming and the advantages that come from playing in this manner far exceeds any other. Now if you don't even know what a live casino is we'll give you a quick breakdown of what you need to know and then we'll follow that up by telling you all the advantages that live casinos bring.
Why should you play at a live online casino
A live casino is a section of an online or mobile casino that uses a live stream feature to beam you into one of their actual land based casinos where you'll experience all the same sights and sounds you normally would, as well as be able to chat with a dealer who will play out your games for you.

Now if this sounds like it could be right up your street then fantastic! Our job of convincing you has been made a little bit easier however truth be told with all the advantages live casinos bring this shouldn't be too difficult a job for us anyway!
The first advantage that comes from playing at a live casino is the one we expect you to have all thought of instantly – and that's where you get to play. Because live casinos are part of online and mobile casino this means wherever you can play one of these you can play at a live casino. This means the only thing that's deciding whether or not you can play your favourite games is an internet connection so now if you feel like it you can jump in on the action while you're relaxing in the bath, while you're sat on the train, or perhaps even while you're on your break at work! The possibilities are endless and now you'll never need to experience a boring moment again!
And if you're thinking "well why don't we just play at an online casino instead then?" we have one great answer for you – the atmosphere! With live casinos you'll actually be facing a living and breathing dealer who can joke around with you as you play and give you a bit of a personal touch to your gaming experience. This is something that online casino games don't offer but live casinos do. Better still, since live casinos are attached to all of the biggest and most popular online casinos on the planet it isn't a case of choosing one over the other as you can mix and match between the two on the same site!
The third advantage that comes from playing at a live casino is probably our favourite out the bunch and that's the selection of games you have at your disposal. There'
s a couple of reasons why live Roulette casinos are able to offer far more games than your local one can and they include the fact that they don't have to build their casino in cramped city centres, and the fact that the pool of players they are able to reach is global means they're drawing in more money than a local casino would as well.
What this has meant for the player is that live casinos have an incredible range of games available which of course starts with Blackjack, Roulette, and Poker, then they move on to some of the lesser played games like Baccarat and Sic Bo, and then they start going into all the individual variations of those games as well which means if there's ever a game you're looking to play you can be rest assured a live casino will have what you're looking for!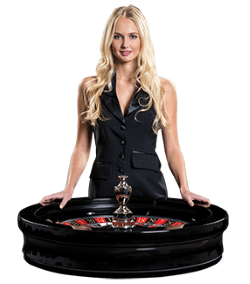 The final advantage we'll give you about why you should play at a live casino is for the bonuses they have on offer which are some of the largest bonuses you'll find anywhere on the planet. There's a few types of bonuses new players to live casino's will run into and we'll give you a quick summary just now so you know what to look forward to.
Our favourite bonus for a live casino is a Deposit Welcome Bonus and plenty of the top casinos out there nowadays offer these. The amount you get is in the region of £5-£15 which is a fantastic amount in our eyes as it gives you the opportunity to pick your favourite live casino games and play a couple of hands to get your bearings and understand how it all works before putting a single penny on the site. Not only that but it comes with the added bonus that you could make a withdrawal from the site before you even deposit!
The larger live casino bonuses come from the welcome packages that sites like to offer and these come in many different forms however there is a trend here which is the more money you're willing to deposit – the more cash the site will give you to play with. It can sometimes be deposit £100 play with £200 or it can even sometimes get as high as deposit £400 play with £1000 so there's certainly a lot of money to gained here. Check out Coinfalls.com/play-casino-online/ for more on casino game-play!
Even if you're not looking to deposit very much you'll be pleased to hear there's still some low end bonuses like deposit £10 play with £50 and the sort to keep the casual players happy as well. Regardless of which site it is you do choose to play on we would recommend you take them up on their new player bonus as you really are leaving free money on the table otherwise!

These are the main reasons we have as to why you should consider playing at a live casino over anywhere else right now. You still get the same rich atmosphere that comes from Casino 2016 UK but with the added bonus of doing it from your own home, the selection of tables you have the choice of will blow anything a regular casino can offer out the water, and the bonuses here are easily worth hundreds if not more and that's just when you sign up too!
[/vc_column_text][/vc_column][/vc_row]