ciyaartoyda New kaliya. 30x shuruudaha Wagering, max x4 diinta khuseysaa. £ 10 Min. deposit. kulan Slot oo kaliya. T&C's APPLY.$€£5 free bonus is only playable on Shamrock N Roll, Mayan Marvels and Candy Swap Slots, please register and validate your mobile number to receive it.


Pixie Gold is nothing that you expect it to be! You will not see your regular reels here in this slot, but will be surprised by a completely new layout! This slot on Coinfalls Casino is here to give you an out of the world experience in slots, and you will not be disappointed. It has a different theme and a unique design, which makes it a stylish slot but with an easy gameplay.

Pixie Gold has a layout that will blow your mind

!

In the first look, Pixie Gold might look like a 8 reel slot with four reels in the middle being highlighted. But in reality, there are only five reels in all. This confusing pattern might be tricky to look at, but once the reels start spinning everything becomes clear! There is nothing complicated about this slot, it only has a unique design to please your eyes. You just need to get used to the placement of reels. Waxaa jira 1296 siyaabo inuu ku guuleysto, which is an odd number when we talk about paylines.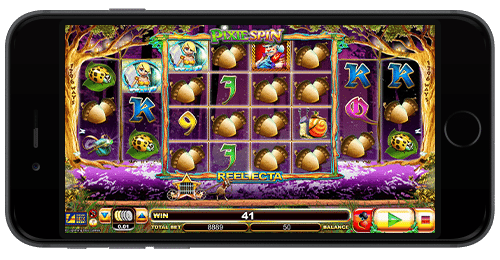 The duntu ugu weyn waa in dhexda, kuwaas oo afar tirada, iyo sidoo kale afar calaamadaha iyaga oo ku. Kuwani afar duntu waxaa loo arkaa ONE ambadeen, in kastoo ay leeyihiin calaamado kala duwan on walba. The duntu kale dhinaca leeyihiin meel ka mid ah 3 calaamadaha. maroojin The yimaado halkan! Sidaas, waa kaliya a 5 duntu booska - mid ku ambadeen wax weyn ka dhexe, iyo laba dhinac kasta. Sidaa darteed A kaga badisay saddex calaamad waa marka aad laba calaamadood oo ku 1aad iyo ambadeen 3aad, iyo astaanta la mid ah mid ka mid ah duntu dhexe. jaaniska waa shaki la'aan sare, when a matching symbol only has to appear once in the four-middle reels.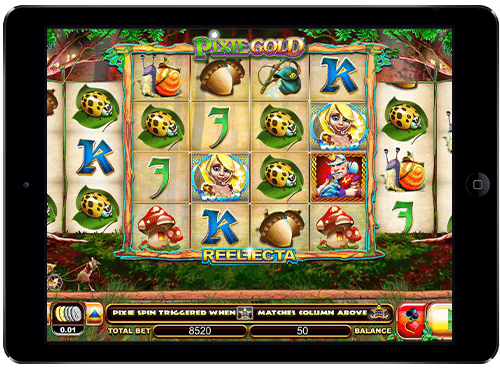 Pixie Gold is the wild symbol here, and this blonde fairy brings in only good news. She can substitute all symbols except the King Star symbol. This wild symbol can appear only in the 3rd reel, that too only in the base game. But the main feature you will love is the free spins feature. You might only get ONE free spin at a time, but that is not something to be disappointed about because it can be re-triggered! mouse A yar lagu arki doonaa hoose ee duntu had iyo siday gaadhi, taas oo shaki waa hortiisa a cute. mouse The kala sooc lahayn istaago la gaadhigiisa hoos ku ambadeen a, iyo haddii ambadeen in uu leeyahay calaamad King Star, ka dibna aad ka heli wareejin ah oo lacag la'aan ah. Iyada oo waxaas oo dhan cute on yihiin, astaanta duurjoogta ah ayaa sidoo kale ka dhigi kartaa muuqaalka on labaad ama saddexaad ku ambadeen in ay keenaan in nasiib dheeraad ah aad loogu talagalay!

Gunaanad

Pixie Gold waa Afyare la gameplay fudud iyo qaabka xiiso leh! Qaabka waa sababta aad ugu socdaan baxay badan oo lacag caddaan ah! Haddaba sidaas daraaddeed ciyaaro oo la kulmi ugu fiican!