Pamaén Anyar Ngan. 30x Syarat Wagering,

Max conversions X4 applies.£10 Min Deposit.Slot Games Only.

t&c'sapply


Pixie Gold is nothing that you expect it to be! You will not see your regular reels here in this slot, tapi bakal kaget ku perenah lengkep anyar! slot ieu dina Coinfalls Kasino di dieu méré Anjeun hiji kaluar ti pangalaman dunya liang, jeung moal kuciwa. Cai mibanda hiji tema beda jeung desain unik, nu ngajadikeun hiji slot stylish tapi kalawan midangkeun gampang.

Pixie Gold boga perenah nu bakal niup pikiran anjeun!

Dina katingal kahiji, Pixie Gold bisa kasampak kawas 8 reel slot jeung opat reels di tengah keur disorot. Tapi dina kanyataanana, aya ngan lima reels dina sagala. This confusing pattern might be tricky to look at, but once the reels start spinning everything becomes clear! There is nothing complicated about this slot, it only has a unique design to please your eyes. You just need to get used to the placement of reels. Nyaéta 1296 cara pikeun meunang, which is an odd number when we talk about paylines.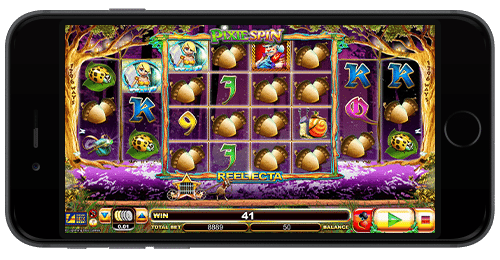 The main reels are in the middle, which are four in number, and also have four symbols in them. These four reels are regarded as ONE reel, sanajan maranehna geus simbol beda dina unggal. Nu reels séjén di sisi boga rohangan 3 simbol. pulas asalna di dieu! janten, eta ngan 5 reels slot - hiji reel utama di tengah, jeung dua dina saban gigir. Ku kituna A win tilu lambang anu lamun meunang dua simbol dina 1st jeung reel 3, jeung simbol nu sarua dina salah sahiji reels tengah. probability nyaéta undoubtedly luhur, lamun lambang cocog ngan geus mucunghul sakali dina reels opat tengah.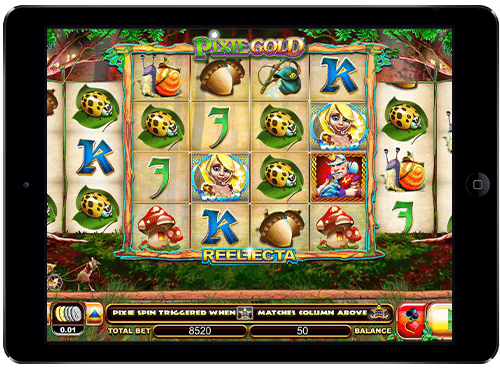 Pixie Gold nyaéta lambang liar di dieu, and this blonde fairy brings in only good news. She can substitute all symbols except the King Star symbol. This wild symbol can appear only in the 3rd reel, that too only in the base game. But the main feature you will love is the free spins feature. You might only get ONE free spin at a time, but that is not something to be disappointed about because it can be re-triggered! A tiny mouse will be seen at the bottom of the reels always carrying a cart, which is definitely a cute sight. beurit acak eureun jeung gorobag-Na dina reel a, jeung lamun nu reel ngabogaan lambang King Star, mangka anjeun meunangkeun spin bébas. Sedengkeun sadaya ieu hal imut aya dina, lambang liar ogé bisa nyieun pintonan dina kadua atawa reel katilu mawa di tambahan tuah pikeun anjeun!

kacindekan

Pixie Gold nyaeta slot kalawan midangkeun gampang jeung perenah metot! perenah ieu alesan naha anjeun bisa leumpang kaluar jeung kavling duit tunai! Jadi muter ayeuna jeung ngalaman anu pangalusna!